2022 was truly one for the books at The Joy Mission! We couldn't be more grateful for the support we've had and proud of all that we've accomplished this past year. We wanted to take a moment to reflect and share—let's dive in!
Summer JOY Program 2022
Sometimes the most wonderful joy you can give is helping kids achieve their dreams! Summer camps are a great way to immerse kids in the activities and hobbies that they love. Our Summer JOY program was a huge success last year. We sent 7 kids to 12 different summer camps across the country, ranging from performing arts and dance to Minecraft, STEAM, sports, YMCA, and soccer!
Christmas JOY Program 2022
The holidays can be particularly challenging for kids grieving the loss of a parent. At The Joy Mission, our goal is to not only bring JOY to these kids on Christmas morning, but also to alleviate the financial and mental burden on the surviving parent or caregiver. Last Christmas, we supported 15 kids from 4 families across the country, sending over 165 gifts including hockey equipment, Power Wheels, Nike Air Jordans, Apple AirPods, and a pottery machine.
"Dear The Joy Mission, your kindness, thoughtfulness and compassion made this Holiday season a little brighter for my kids. Christmas was not the same without Joel — there was a huge hole — but we still felt JOY on Christmas morning when the kids opened their gifts. And I felt relief in the weeks leading up to Christmas because I did not have to shop and wrap. We cannot thank you enough!"
— Karen
Spreading joy to Kaiden, Wyatt, and America
Sports, hobbies, and extracurriculars kept Kaiden, Wyatt, and America connected to their community, and gave them something to look forward to after they lost their dad, Jason, in October 2021. As a family, they would spend their time together playing soccer and cheering on their favorite sports teams—Atlanta United and The Braves!
12-year-old Kaiden takes after his dad's love of soccer, and even plays the same position as his dad did: goalkeeper. The Joy Mission covered a year of his soccer expenses, including uniforms and equipment, and sent him to goalkeeper camp to improve his skills.

8-year-old Wyatt is a big ball of energy with a love of music. When he's not jumping off walls and flipping like a ninja warrior, he takes weekly piano lessons. The Joy Mission paid for a year of piano lessons and a season of private Parkour for Wyatt.

4-year-old America wanted to follow in her big brother Kaiden's footsteps by playing soccer, just like him. She played a season in the fall, but realized her passions were gymnastics and dance instead. The Joy Mission covered a season of soccer and a year of gymnastics and dance for America.

The Joy Mission supported all three kids in our Christmas JOY program in 2021, in summer camps in 2022, and sent them on the Polar Express this past Christmas for a quick family getaway in North Carolina.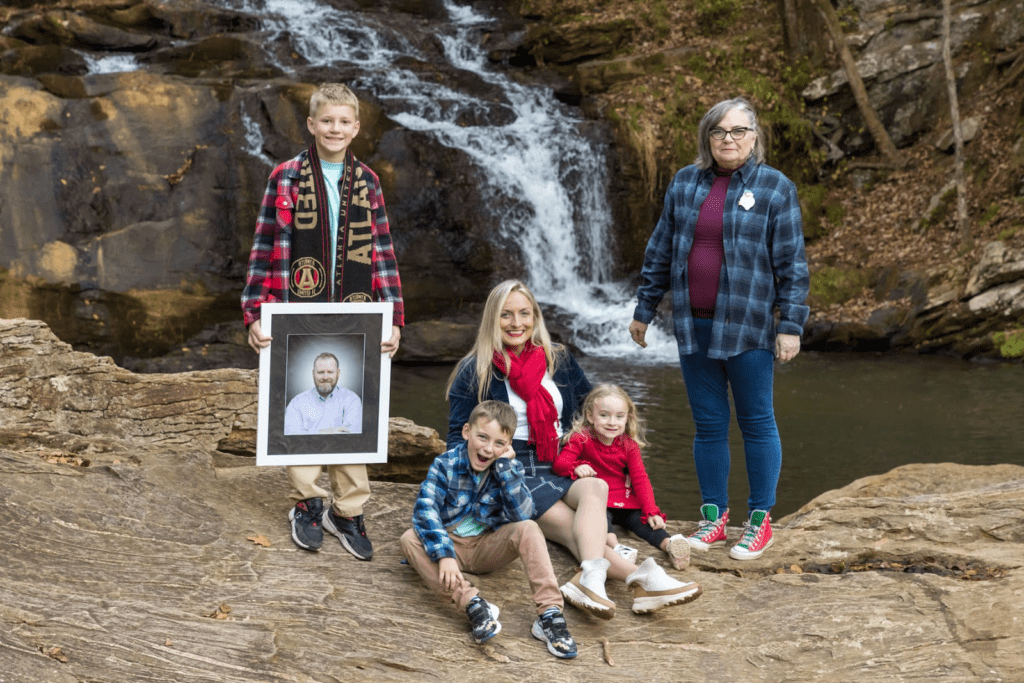 Looking forward to a joyful 2023
As we look back on all that we've accomplished in 2022, we're so hopeful, grateful, and excited for what's to come in 2023. To stay updated, check out our Blog or follow us on Instagram.
Want to get involved? Join the mission today. ?
"I wanted to thank the entire Joy Mission community so much. We could not have done it without you." — Lindsay Banos
About The Joy Mission
We are on a mission to create moments of joy for children who have suffered the death of a parent to ensure they feel loved, seen, and are forever seeking the rainbow after the storm.
Read more about our story.
Like this Post? Share the Joy!